Jarablus camps without services and promises never met
Al-Jabal camp near Jarablus city in Aleppo eastern countryside
In Jarablus and its countryside, living conditions of camps is becoming worse every day especially with the heat wave Syria is witnessing, these bad conditions aren't affected by diseases only but it caused the death of 6 months infant in al-Mala'ab camp inside Jarablus city.
Jarablus city contain 4 regular IDP camps and random gatherings of refugees, and according to the aid office of Jarablus local council around 30k civilians are in al-Jabal camp west Jarablus, Zoughra camp near Zoughra village 20km west Jarablus, al-Mala'ab camp inside Jarablus city, Ayn al-Beyda camp south the city near Ayn al-Bayda village and 10 small random gatherings of camps contain related families.
NSO reporter in Aleppo eastern countryside visited the family of Doua'a al-Ibrahim al-Abdullah from al-Khefse in Aleppo eastern countryside the infant who died in al-Mala'ab camp in Jarablus city of high body temperature due to the heat wave according to what the infant's mother said.
The infant's mother told NSO reporter: I noticed my child body temperature is rising with diarrhea and vomiting, the weather temperature was so high around 45 degree, we took her to a doctor in the city who gave her antibiotic and antipyretic after doing a check-up then told us to put cold compress on her forehead to cool her body's temperature down, we came back to our tent and did everything the doctor said but she didn't become better.
Doua's mother continue: after midnight her condition was worse and she lost conciseness, we took her to Jarablus Hospital and after she was taken to ER the doctors told us she died.
According to NSO reporter al-Mala'ab IDP camp where Doua died although it is under AFAD authority but it lack any proper cleaning or sewer management from any public office or organization focusing on camps, it smell bad and full of bugs and insects.
The camp contain around 350 families in 43 hangar every hangar is 120 m and divided into 8 sections every section is given to a family, centered by a small corridor and every tent isolated from the other by curtains which doesn't provide privacy.
NSO reporter also visited al-Jabal random camp which contain more than 1250 families according to the last counting by the camp management, it is occupied by displaced civilians from Aleppo eastern countryside from al-Khefsa, Maskane and Deir Hafer which were captured by regime forces about 4 months ago, in addition to families from Homs and from al-Shyoukh area in Aleppo eastern countryside and families from Raqqa, Deir Ezzor and Hasakah countryside too.
The refugees complain about the lack of services and absence of sewage management, the refugees had to build restrooms from their own money without having sewage management and it caused awful smell and insects, water supplies are also not enough as well as electricity in the camp in addition lack of aid from any organization.
48 years old Abu Mohamad living in al-Jabal camp told NSO: Russian warplanes bombardment forced me, my wife and 6 children to leave our house in al-Khefse in February when Assad regime was trying to advance and capture the town we went east to SDF-held areas.
Abu Mohamad continue: we arrived at al-Kadro village after huge suffering from being targeted by Assad forces and ISIS at the same time, we stayed for a week in a place where SDF held more than 90k refugees, after a week we were able to reach al-Jabal camp in Jarablus, on the contrary to what we expected it lack organizing and sewage management, also there is no water supplies or food baskets for refuges, in 4 month we received 2 food baskets only.
Um Ali lives also in al-Jabal camp, she is from al-Shyokuh area where YPG expelled residents from in early 2015 after ISIS retreated, Um Ali told NSO reporter: I am one of the early refugees to this camp, I participated in building it until it became a camp, and since we arrived here we suffer from neglecting and lack of aid, as a woman what annoy us more is the absence of water and restrooms.
The residents of the camp lost hope in keeping promises from aid agencies and local council members who visit the camp from time to time of improving services and providing aid, some of the refugees built restrooms from their own money, Abu Bashar who lives in al-Jabal camp said he built restroom costed him 25k SYP around 25 $.
From their sides the officials of the aid and service office of Jarablus local council said there is a study to organize al-Jabal camp and providing infrastructure from sewage management to electricity and water with help from humanitarian organizations.
Around 4500 families from different Syrian areas live in Jarablus city camps, the city was cleared from ISIS in 24 August 2016 by Free Syrian Army groups backed by Turkey, there is no aerial bombing from Russian or regime warplanes so it became a safe place for civilians fleeing area held by ISIS, Assad regime and Syrian Democratic Forces SDF.
Two kids in al-Mala'ab camp in Jarablus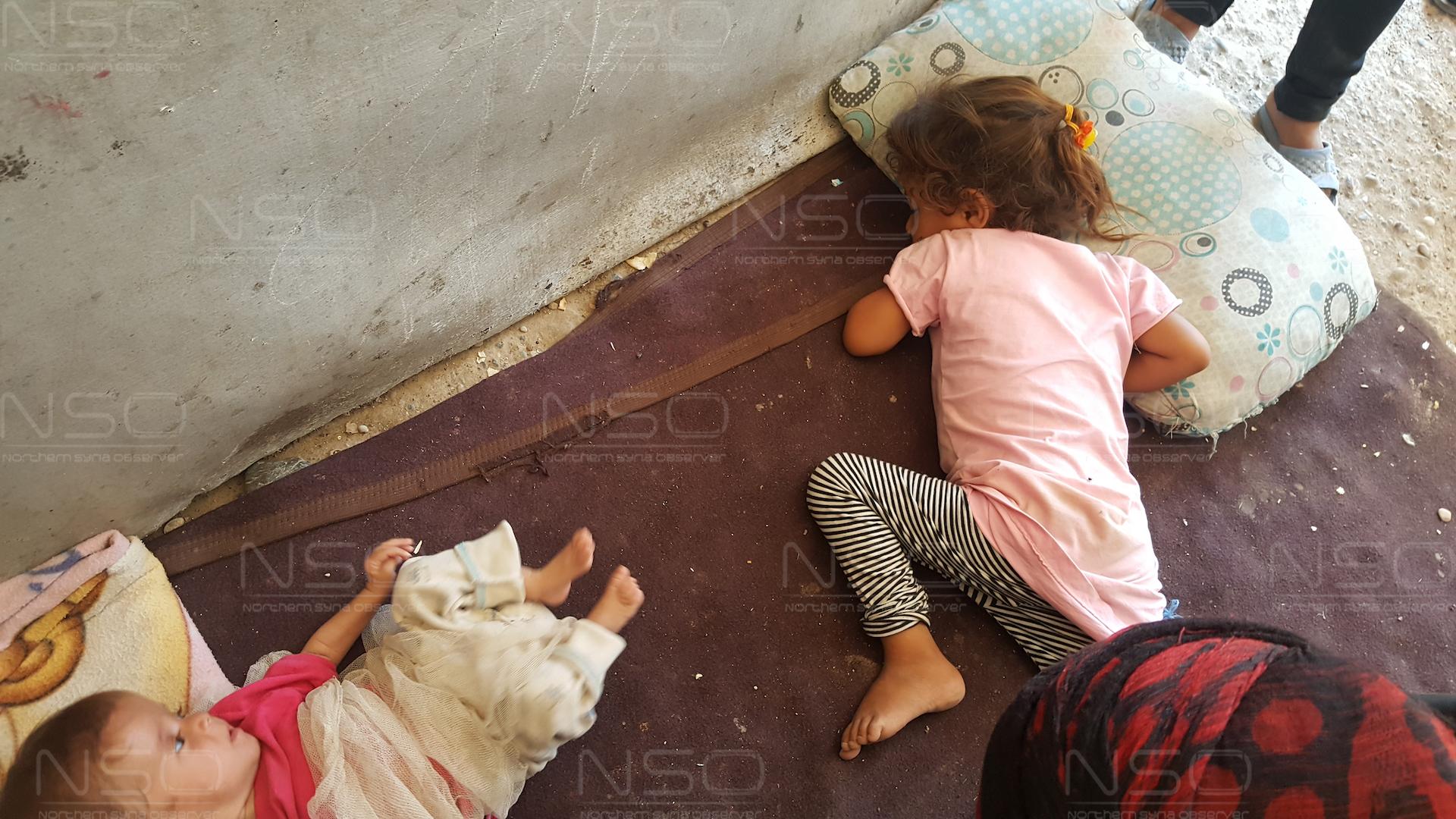 Al-Mala'ab camp in Jarablus
Restroom in al-Jabal camp near Jarablus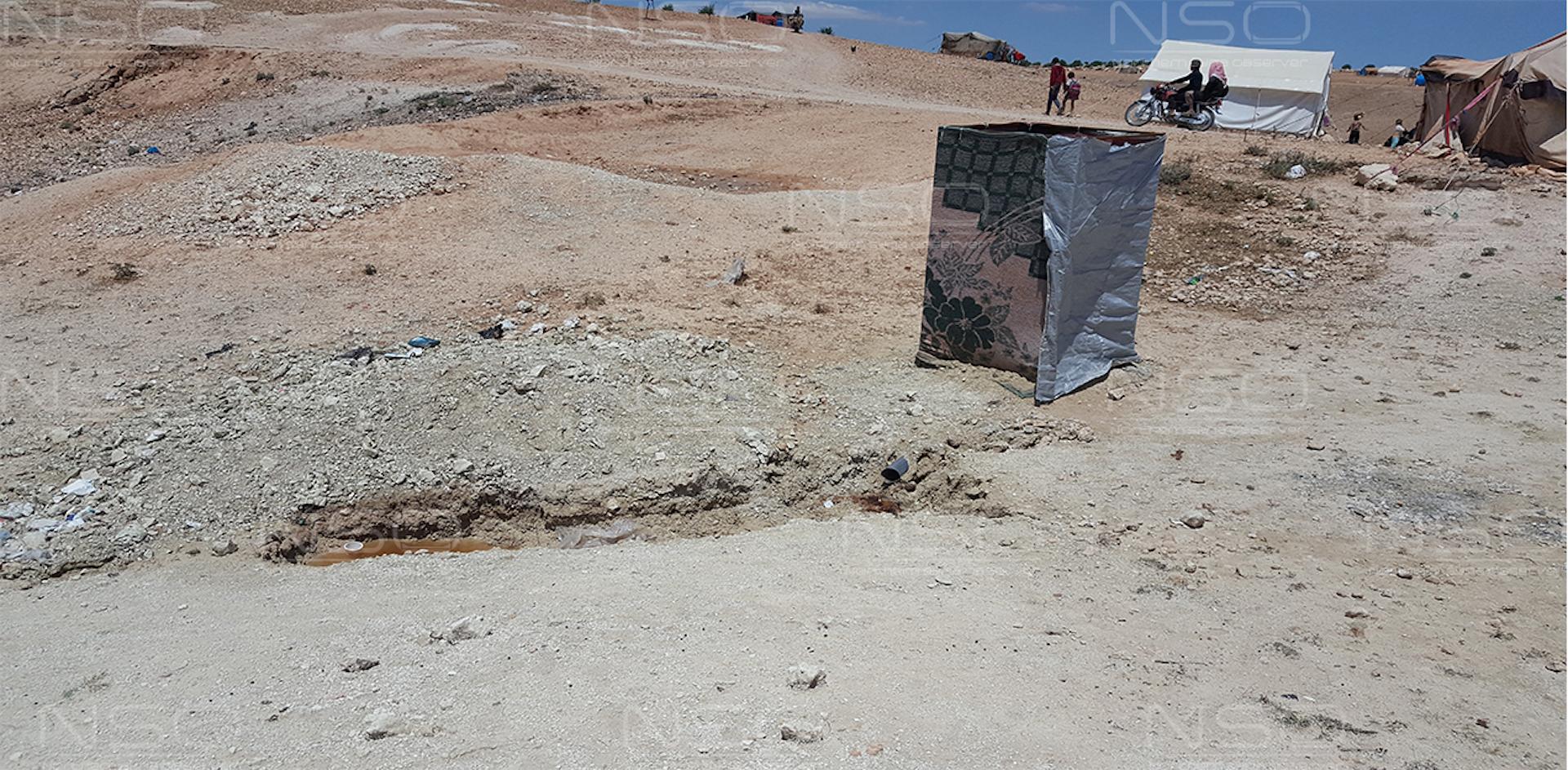 Syria
aleppo
JARABLUS
FSA
REFUGEES
ISIS
ISISL
TURKEY
سوريا
حلب
جرابلس
تركيا
لاجئون
نزوح